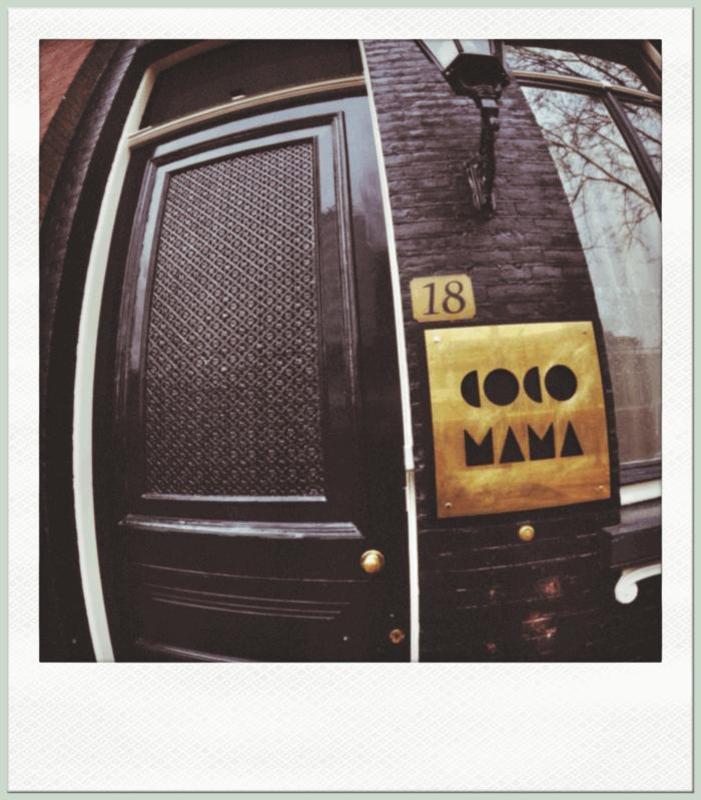 Cocomama Informations
What could be more exciting and unique than to stay in a place that was Amsterdam's most famous brothel back in the day?

Cocomama is housed in a monumental building, complete with high ceilings, chandeliers and lots of daylight.

Our rooms are decorated with different Dutch themes, to give yo
From the airport (Schiphol)
Take a train to Amsterdam Central station, then follow directions below.
Train tickets are 3,90, make sure you don't select the ticket machine's default First Class tickets which are more expensive. The train takes 20 minutes and runs 24 hrs/day.
A taxi directly to Cocomama from the airport costs roughly 45 euro.

From Amsterdam Central Station
Public transport:
Walk out the front entrance of the station and go to the left-hand tramstop. Take the Number 4 tram towards RAI and get out at stop 'Stadhouderskade'. You're already on the right street and on the right side of the street, so just walk back in the direction the tram came. We're located approximately 100ft before the tramstop at Westeinde 18. A ticket for the tram costs 2.70 and is valid for unlimited travel for an hour. You can buy tickets on the tram.

Taxi:
Take a taxi to Westeinde 18. Distance from Central Station is 4km and travel time is approximately 10 minutes. A taxi should cost around 13 for a regular taxi (holds up to four people). Taxis are obligated to turn on the meter, which starts at 2.65. The price per kilometer is 1.95 and 0.32 per minute waiting time.
A taxi from the airport should cost around 45 euro.

In any case, if you find yourself lost, please give us a call so we can help you find us.
Amsterdam is known for its vivid and liberal parts of town; Cocomama, however, is situated in a trendy and upscale part of the city centre. All of the tourist attractions are within walking distance or a short tram ride away. Close to Museum Square, the famous Albert Cuijp market and Leidse square, we cannot imagine a place more suitable to start your journey.
Please note: Cancellation policy: 72h before arrival, if you make Fully Flexible booking. In case of a late cancellation or no show you will be charged: Late cancellation and No show is first 2 nights. Please note we do not accept bookings of groups larger than four people. If you decide to make a booking for your group anyway we retain the right of cancelling your booking without a refund of your deposit. Occasionally we do take large groups but please contact us first! Please note: Cancellation policy: 72h before arrival. In case of a late cancellation or no show you will be charged: Late cancellation and No show is first 2 nights. For the NYE period (week 52 and 1) and the Dutch King's Day period (week 17) we have a 3 week cancellation policy. Any bookings cancelled after this time will incur a penalty charge of the first three days of your booking. Check in from 16:00 to 22:30. Check out before 12:00. If you arrive between 22:30 and 8:30, please reach us to the phone number provided in your Booking Confirmation email when you are at the front door, and our night receptionist will open the door for you. Please be aware that on the advice of our government we have a strict NO CASH policy to maximise the security of our guests and staff. Taxes not included - occupancy tax 6% per room per stay. Breakfast not included. No curfew. Non smoking. Please note that bookings of groups larger than 4 people are always on request. Please be aware we have a house cat Joop. He lives in the common room and does not have access to guest rooms. He is super friendly, cuddly and sleepy. Check out our social media: Instagram @cocomamahostel, Twitter @hostelcocomama and Facebook https://www.facebook.com/hostelCocomama.
Informations about Cocomama
What could be more exciting and unique than to stay in a place that was Amsterdam's most famous brothel back in the day?

Cocomama is housed in a monumental building, complete with high ceilings, chandeliers and lots of daylight.

Our rooms are decorated with different Dutch themes, to give you a real Holland experience. Youll find comfortable beds, lockers, power outlets and a shower in your room, but we really want you to come and hang out with us and other travellers in the common areas.

We\'re fortunate enough to have a large sunny garden where you can find some peace and quiet away from the hustle and bustle of the city. There\'s also a fully-equipped kitchen, free Internet, a movie corner and tons of activities organised by our staff.

We\'ve got the cleanliness, professionalism and boutique style of a high-end hotel but without the stiff formality and prices. Not only will you be referred to by your first name but our friendly staff will go above and beyond to share their local knowledge and make your stay memorable and pleasant.

Feeling a bit homesick? Our cat Joop is a real friendly cutie and is waiting for you in our common area!

Please read our T&C's below before booking.