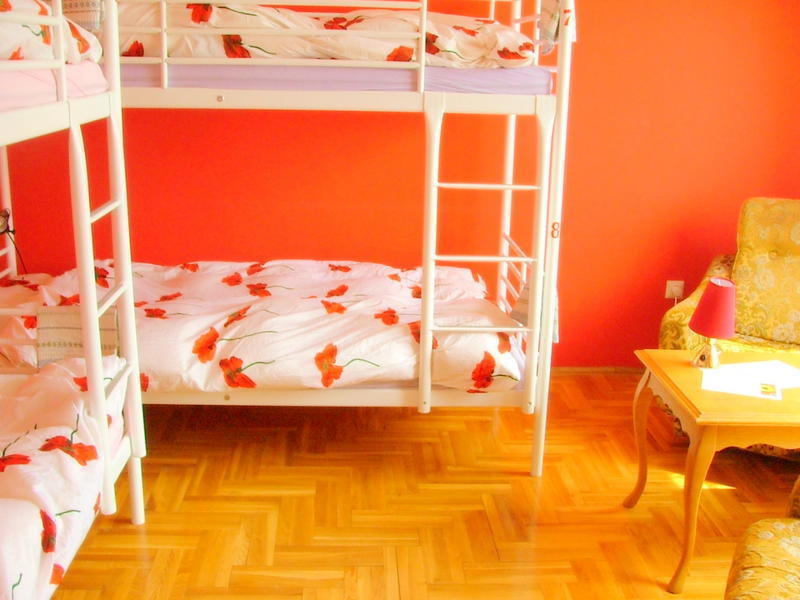 Hostel Relax Informations
This is the right place for you if you want to reach all the main attractions easily whilst having a quiet place to sleep and a green relaxing start to your morning, rather than a noisy city centre.
We are convenient for the airport and for exploring the city (see location below).
We welcome trave
From airport
By bus
200E in direction of K?bnya-Kispest, get off at CSVZ? UTCA, then a 10min walk straight ahead along the main road (same direction as the bus). There are white signs painted on the path (see picture above) to help. At the white pharmacy (has green illuminated cross on its side) turn right then right again. The hostel is about 100m along this road and on the left hand side.
By taxi
Only use pre- paid taxi or agree fare in advance. Taxiplus is about 10USD.
By rail
From Nyugati station you can take a train to Pestszentl?rinc (use the szemly service which gives the final destination as Monor). You can also take the blue metro just outside the station (see instructions below).
From any other railstation or the city or Npliget (Eurolines, Orangeways, Student Agency) bus station, take the blue metro (tube line) to the final stop at K?banya Kispest (Kki terminal).
From the tube station take bus 98 or 98E and get off at the stop called T JR by the white bridge. You can also take 200E but you will need to get off at an earlier stop called Fels?csatri and walk straight on till the white bridge. Use the white bridge to cross over the main road and then walk in the same direction as the bus you got off there are signs painted on the path to help you (see picture above). Keep walking till you reach the white pharmacy (about 5 min) and then turn left and then right, we are about 100m along this road on the left hand side.
We are just a short bus ride from the airport and also convenient for the stations for long distance coaches and trains. We are just 500m from a rail station from which you can be in the centre of Budapest in 18min and only 50m from the bus stop to the metro in 8min. We are in a quiet leafy area of Budapest. Within easy walking distance there are restaurants with typical Hungarian dishes for a very reasonable price. Local food shops are also just a short walk away.
Please note: Cancellation policy: 72h advance notice Payment upon arrival by cash only Check in from 14.00 - 19.00 for earlier arrivals luggage storage available - please let us know your approximate time of arrival ALWAYS as there is no 24 hour reception and if it is possible in case of flight delays pls. send me an sms Latest check in 10 pm IMPORTANT NOTE: If you will arrive later than 22:00 it will be your responsibility to find alternative accommodation Check out before 11.00 Breakfast not included - food shop is close by Taxes included
Informations about Hostel Relax
If you travel because you are curious about the world, you considerate yourself rather a traveller, then a tourist, prefer quiet and green areas, (which are not packed with the usual tourist prices and represent more real Hungary) to a noisy city centre but still want quick and easy access to all the main attractions then this is the place for you.
green location
small, silent home-style hostel
ideal for little groups up to 10 people
no age-limit
only 4 bed dormitories
free wi-fi
free parking
free coffee and tea
big terrace for breakfast
fully equipped kitchen
large garden for relax
no curfew
tour ideas and programs just for you
free map of Budapest
free DVDs and games
public transport close-by
ATM close-by
Hungarian/Asian and self service restaurants close-by
food shop close-by
pharmacy close-by
I speak English, German, Italian and Russian and having travelled extensively myself I have a good idea of what the needs of budget travellers are. As a native Budapest citizen I am also in a good position to advice you about places to visit both in and out of the guide books.



Please note:
Cancellation policy: 72h advance notice
Payment upon arrival by cash only

Check in from 14.00 -19.00 - for earlier arrivals luggage storage available - please let us know your approximate time of arrival ALWAYS, for late night arrivals extra fee!
Check out before 11.00

Breakfast not included - food shop is close by
Taxes included